Our boarding services provide a stimulating and social environment for your dog to play and interact with other dogs. Our staff closely supervises playtime to ensure the safety and well-being of all our furry guests.
(All Dogs Must be Spayed and Neuter)
Dogs boarding must be picked up by noon the following day or be charged 1/2 day of daycare.
Dogs staying 3 nights or more receive a free bath.
2 Dogs (Sharing Kennel)
$80/Night
All dogs should be dropped off after 7:30AM
&
Be picked up by 6:00PM Monday - Friday and 5:00PM Saturday - Sunday.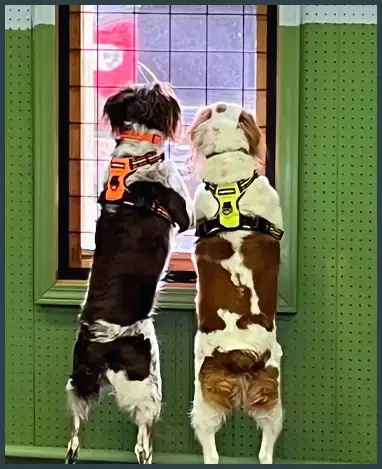 In addition to boarding, we also offer professional grooming and doggy daycare to keep your pet looking and feeling their best. We use only the highest quality products and equipment to ensure that your pet's coat is healthy and shiny. Our doggy daycare provides a safe and comfortable environment for your pet to play and interact with other animals. We make sure to keep a close eye on them at all times and provide plenty of exercise and entertainment throughout their stay. We care deeply about your pet's wellbeing and strive to make sure that their experience with us is as enjoyable as possible.